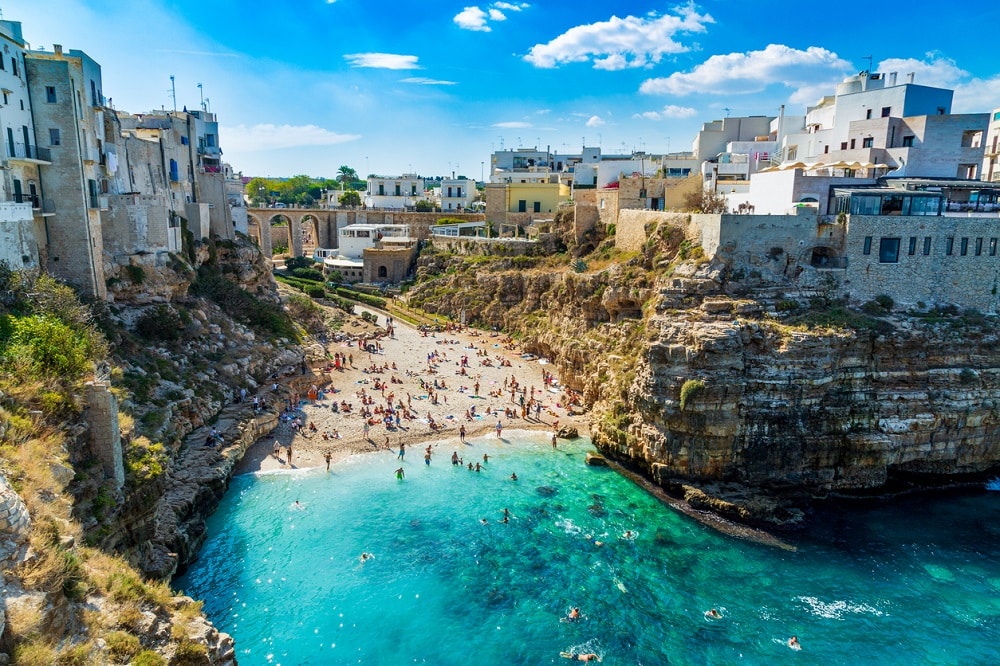 Polignano a mare: The friendliest city in the world
Polignano a Mare, one of the most sought-after seaside resorts in the region for its beautiful beaches and sea waters that have been awarded the title of the Blue Flag, is also the most welcoming city in the world.
Considered one of the most beautiful villages not only in Puglia but throughout our peninsula, Polignano a Mare is a truly suggestive town that attracts many tourists every summer for its beautiful beaches and its landscape made up of stone houses overlooking the waters of crystal clear sea creating a truly suggestive environment.
Like many cities on the Apulian coast, Polignano a Mare also has a historic center of medieval origin that stands on a cliff overlooking the sea, with an intricate labyrinth of small streets surrounded by tall stone houses. Its coast, on the other hand, is characterized by a high and jagged coast that houses numerous sea caves, such as the Grotta delle Rondinelle, and various inlets called "Lame" such as Lama Monachile which is so named because several monk seals once lived here. The main caves can be visited through organized boat tours which stop at those of greatest interest and allow you to swim in truly enchanting places.
Not only coastal beauties and breathtaking landscapes, but Polignano a Mare is also in first place in the world among the destinations that deserve mention for tourist hospitality according to the most famous travel portal in the world Booking.com, which rewards the accommodation facilities of 220 countries and territories for their commitment to providing excellent service and hospitality consistently throughout the year.